Over 85.000 visitors,
Over 2.000 exhibitors,
And over 1 million square feet of exhibitor space.
That, and so much more, was IMTS 2022!
The International Manufacturing Technology Show is the biggest trade show in North America. It was first held in 1927 in Ohio and is now taking place in even-numbered years at McCormick Place in Chicago, Illinois. The trade show brings creators, builders, sellers, and drivers of manufacturing technology from over 119 countries together. Attendees can experience more than 15,000 new machining technologies, learn about the most recent advancements in traditional and digital manufacturing, and find processes that will help them overcome manufacturing obstacles and increase productivity.
Our first time at IMTS couldn't have gone any better!
Day one of IMTS
The preparations for the trade show had been going on for months at this point, therefore everyone was more than ready to finally get out there and meet as many people as possible!
After setting up the booth and getting everything ready, the first day of IMTS was a full-blown success. It was incredible to finally be able to meet people in person again. Our booth was situated in the East Building, as a part of the German Pavilion, who took such amazing care of everyone. It was a massive joy, that Dr. Jochen Köckler, the Chairman of the Managing Board, and Meike Sauer from Deutsche Messe AG also stopped by our booth on that day.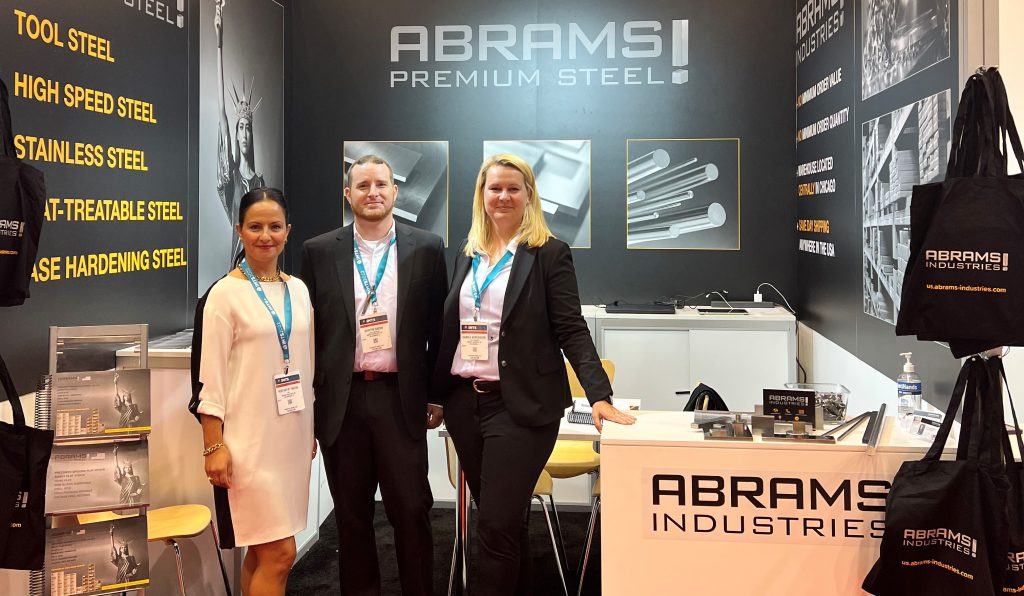 "Most innovative Marketing campaign 2022" award
Day two of IMTS brought something special for us.
Invest in Niedersachsen put on "Niedersachsen's Business Excellence Awards" on September 13th in Chicago, as a part of Hannover Messe USA/ IMTS 2022.
During that, the ABRAMS Art Project 2022 / 2025 has received the "Most innovative Marketing campaign 2022" award, which is an immense honor!
The project couldn't have been made possible without the leadership of our COO and Art Director Ms. Nur Hayat Nezir. She has been a vital part of the ABRAMS Group for over 17 years now and is responsible for sales, marketing, and customer management, spending her time between Germany and the US.
Under her guidance, we have staged iconic cultural symbols with the perfection and variety of our ABRAMS PREMIUM STEEL products. Resulting in 13 exceptional motifs with models from Milan, Amsterdam, and Berlin, taken by the photographer Benjamin Becker.
Thank you so much to Dr. Andreas Eckstein and Invest in Niedersachsen!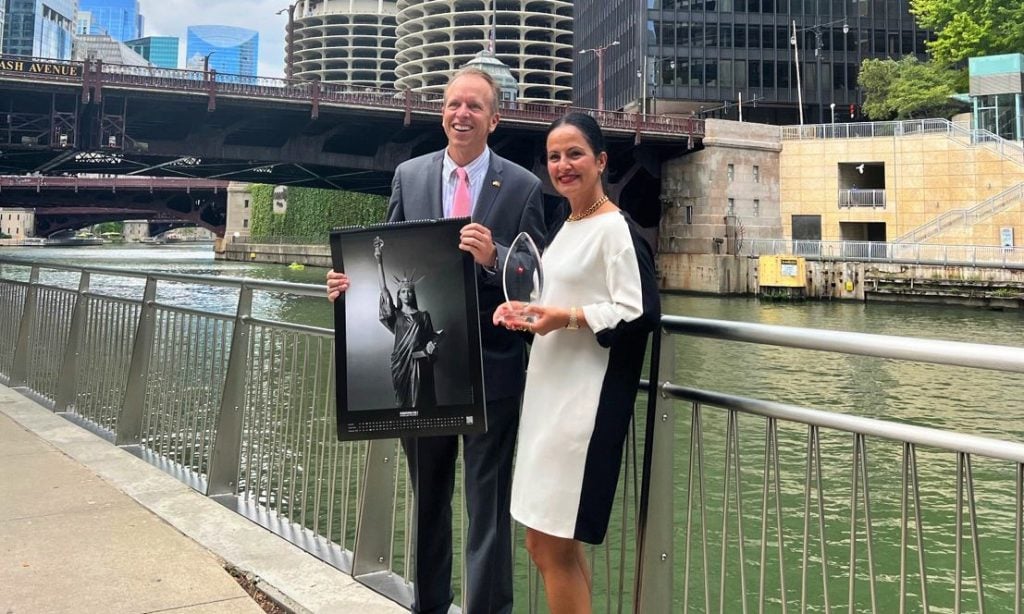 German Night Reception
Right after the award ceremony, our COO made her way over to the German Night Reception back at McCormick Place. It was organized by the German American Chamber of Commerce Midwest, and sponsored by ABRAMS Industries, amongst other sponsors.
It's an event to showcase your own business and talk about its processes and what makes it so special. Over 400 people were in attendance, therefore it was the perfect opportunity to connect with others and gain new business partners as well as to build a network. All in all, it was amazing to get to know new people and meet up with old friends and clients!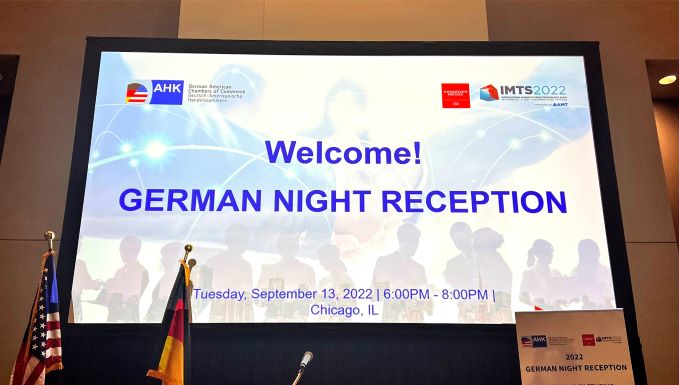 The next few days were full of networking, introducing as many people as possible to our amazing products and attending a countless number of events. After the past 2 ½ years, IMTS really couldn't have come at a better time. It was so amazing to be able to show people our products in person, for them to be able to experience our excellent quality in real life, and to see their reactions to our Premium Steel firsthand!
Apart from our products, our steel advisors introduced visitors to our patented ABRAMS Steel Guide, as well as to our, now awarded, ABRAMS Art Project and to our ABRAMS Steel Catalogue. All of our conversations have been even more interesting and exciting than we could have ever imagined!
DigitalituM Podcast
On day five of IMTS, our COO was part of the fourteenth episode of the DigitalituM podcast, which you can watch and listen to here. Together with Markus Rimmel she talked about what makes ABRAMS Industries so special, how we provide value to the manufacturing industry and what industries can use our products.
She also introduced and showed him our ABRAMS Art Project 2022/2025 and our motifs for the US, Mexico, and Canada!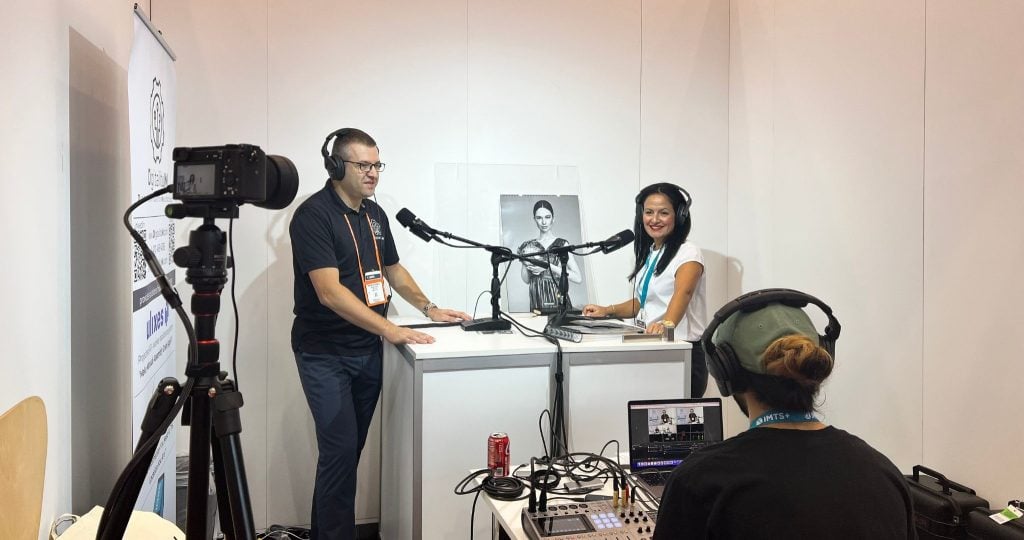 All in all, we are so thankful for the experience and couldn't be happier with the outcome of the trade show. We had an amazing six days at IMTS and cannot wait to return in 2024 to make the whole thing even bigger and better.
Our biggest thank you goes to everyone who stopped by our booth and of course, first and foremost, to our amazing team on-site, they could not have represented our company any better!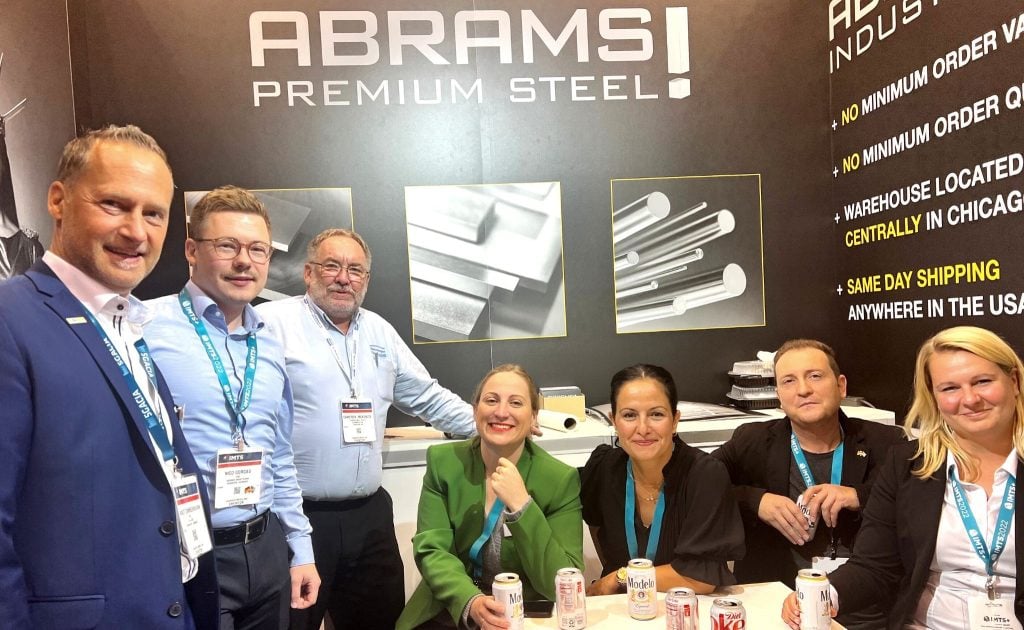 Until next time!